Walking Wednesdays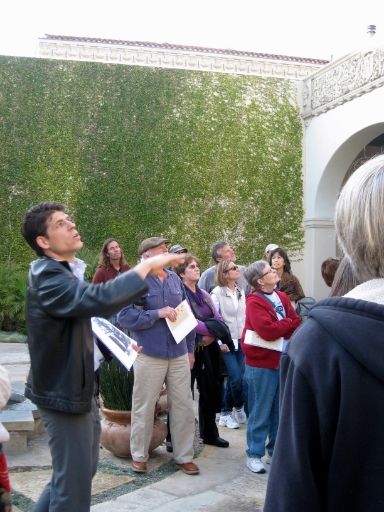 Walking Wednesdays is a series of free, local walking tours around Santa Barbara during the Spring and Summer months.  COAST organizes these walks to promote safe, fun and educational walking in Santa Barbara, as part of our Santa Barbara Walks initiative.
Walking Wednesdays are on the 4th Wednesday of every month from March thru August, starting at 5:30 PM.  Locations of the walk vary depending on the speaker and theme, and walks last about an hour and a half, until around 7:00 PM.
COAST thanks our sponsors for enabling us to continue our popular Walking Wednesdays progam for our fourth year in 2014!
Walking Wednesdays 2014 Schedule 
All Walks Start at 530 and Last Until About 7
March 26 – Tour of the Santa Barbara Courthouse from the Anacapa entrance with Robert Ooley
April 23 – Robert Adams, "Water Wise Gardens," Meet at Louise Lowry Davis Center: 1232 De La Vina Street
May 28 – Dr. Robert Muller, Ecologist, will lead a tour of "Trees of the Santa Barbara Skyline" Meet at The  Santa Barbara Train Station
June 25 – Anthony Grumbine architectural tour. Route TBD
July 23 – Dennis Allen of Allen Associates route LEED Modeling of homes meet at the Courthouse–the specific spot being the corner of Anacapa and Anapamu on the Courthouse lawn.
August 27-  Dennis Thompson, AIA, LEED AP, Thompson Naylor Architects,  Route on The Mesa. Meet at La Mesa Park (just below Lazy Acres), at the picnic area, with concrete and tables.